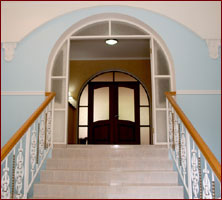 "...I was pleasantly surprised by convenient hotel location: I was easily able to arrange meetings with my biz partners in Krasnodar and spent short time to go to the seaside..."
Yuri Yurcevich, St. Petersburg
"... We were situated in really chic apartment with our stay feeling better than home..."
Matasovy family, Novosibirsk
"...High level of unobtrusive services....Would like to stay here again..."
Nikolay Kazankov, Moscow
Accommodation in Goryachiy Klyuch does not feel like a hotel
Located within the Resort on the mountain river bank, ALLURE is a small and exclusive private hotel that is one of the best boutique hotels in Goryachiy Klyuch. We cater for the sophisticated business and cultural visitor who is looking for unique individual atmosphere.
Exclusive private hotel
Relax in pleasant and stylish atmosphere . Enjoy high comfort and personalized services level, which are not offered in any other hotel.
Generous rooms and suites
Our two-room apartments are classical in style, which creates the atmosphere of cosiness and peace, and are larger and often twice the size of some of our competitors.
Extra services included
Because we would like you to feel truly at home we have included many extras in our room rates that other hotels charge for.
So as well as a cooked breakfast and dinner you can enjoy tea, coffee and light refreshments throughout the day without worrying about your room account. High speed internet, local phone, large swimming-pool and satellite TV with more than 1200 channels are all absolutely free.
Individual Services and tours
Because we are boutique we can be flexible, therefore being able to offer that special touch of service. Our concierge service is friendly and reasonably priced taking the stress out of business and holiday planning.
As well as all the usual group tours you might expect, we can organise tailored excursions.
So whether it is mushroom picking, fishing, trip to the seaside or sightseeing, talk to us about your needs. We'll see what we can do to meet your every request
For a different type of residential experience that doesn't feel like a hotel, e-mail or call us on allure@allure-hotel.ru Goryachiy Klyuch +7 861 593 6425.